Uniforms
Minimum Requirements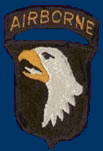 The paratrooper uniform is very distinct. It was designed with bellow pockets so troops could carry extra items on their person and were held closed by heavy snaps so the items carried could not be torn away when exiting the plane. After much wear and tear on the uniform in the field during training, the uniform was "Modified" by the unit riggers, "Reinforcing" the elbows, knees, and the bottoms of the pockets.
1. Coat, Parachute Jumper, M1942
2. Trousers, Parachute Jumper, M1942
3. T-shirt, white or OD
4. Gloves, Horsehide, Riding, M1938 or M1942
5. Boots, Parachutist, Russet
6. Cap, Garrison, ("Overseas cap"), Khaki, Cotton, OD Wool with Infantry piping
7. M1 Helmet complete
8. Cartridge belt, M1923, 10 pocket, Khaki
9. Cover, Canteen, M1910 or M1923, Khaki
10. Canteen, M1910 or M1923, with metal or plastic cap
11. Cup, Canteen, M1910, flat handle
12. First-aid pouch,M1910 or M1942, with Carlisle bandage
11. Weapon and blank ammunition
Wearing Of The 101st SSI, Rank, & Flag
* Shirts and jackets will display the 101st AB SSI on the left shoulder approximately 1/2" down from the shoulder seam, Rank will be placed sleeves between the elbow and the shoulder on both sides. Right side sleeve will have a 48 star flag placed between the rank and the shoulder.

There are many different 101st AB patches out on the market, Please look over the Eagle Patch Corner for further info on the types of patches worn during WWII.
This is a great time to pull out all that wool that you hated wearing in
the summer months. The uniform of the "Battle of the Bulge" can be
thrown together too! When it gets cold out guys tended to borrow, steal,
liberate or loot what ever they could get their hands on!
1. M41 jacket hood
2. M43 jacket hood
3. Wool anti-gas hood
4. "Jeep" cap (khaki)
5. Wool "watch" or "beanie" cap (OD)
6. Wool glove liners (OD)
7. Wool/ leather palm gloves (OD/ brown)
8. * Wool over coat long style (OD)
9. * Wool over coat "Jeep" short style (OD)
10. * Mackinaw jacket (khaki)
11. Rain jacket, rubberized (OD)
12. Rain poncho, rubberized with out hood (OD)
13. Rubber goulashes, buckle type (Black)
14. Shoepacs
15. Wool scarf (OD)
16. White sheets for camouflage
17. Wool 5 button sweater, try to avoid the modern style. But
if you must, atleast sew WWII style buttons on it.
18. Long johns, who cares what type, no one sees em anyway!
19. Kersy lined trousers (khaki)
20. Kersy lined tankers bibs (khaki)

* Note: On the above listed jacket items, atleast place a 101st
patch on the left shoulder. No 48 star flag is required and
Rank chevrons are optional.
Encampment Gear
1. Shelter half with buttons not snaps (OD) or
2. Shelter quarter (khaki)
3. Shelter pins, wooden 6 each
4. Shelter poles, wooden with metal fittings, 1 each
5. Shelter rope, 1 each
6. Wool blanket, (Mustard) or (Brown)
7. Wool sleeping bag, (Brown)
8. Sleeping bag cover, cotton (OD)
9. Wooden ammo box, Large sized to place non-military,
modern sleeping gear, and/ or food items in.
10. Cooking pots, pans and utensils. Old cast iron skillets
work great for this and it keeps with the WWII theme.